I've now found three references to three separate sling shot bullets with Sertorius' name and title and also on the other side the word Pietas from Three distinct locations (map below). Borja Díaz Ariño 2005 (quoted below) knows 5, and these three here may be in addition to those he documents (this is far from certain).
The phenomena has been interpreted in these ways:
Cf. also p. 113 of the same book.
UPDATE, best overview I've found so far:
Via Twitter Hannah Cornwell provides comparative evidence:
"Just checked: the Deities from the Sicily shots are not abstractions (Athena, Artemis, 'the Mother', Herakles, Zeus Keraunos). IG v.14. 608-10, no. 2407; also Chiron 12 (1982) 238-44."
Context from Daremberg and Saglio.
Update 2/8/2022:
I tweeted about Perusine Glandes a long time back specifically the sexually explicit references to Fulvia. I was frustrated at how hard it was to find the citation not on the blog so I'm adding that old info to this post so they can be more easily found. (I think i put it in my teaching material at the time).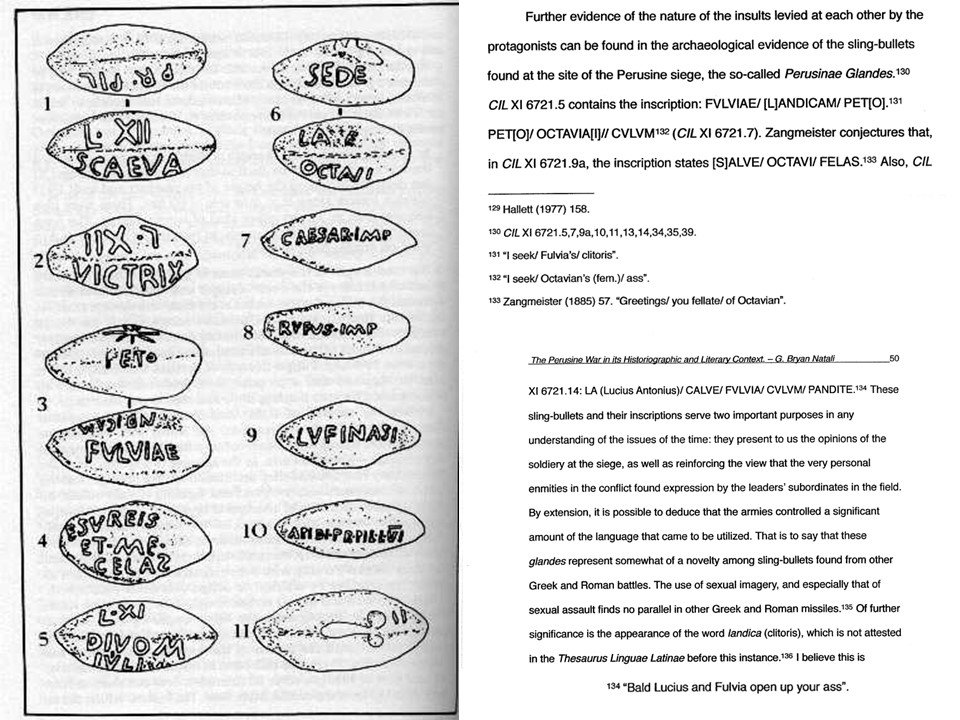 Benedetti, Lucio. 2012. Glandes Perusinae: revisione e aggiornamenti
Update 1-20-23:
Pompey or Pompeius Sextus sling bullet with CN.MAC IMP inscription not unlike coinage (cf. this post on RRC 402/1).