RRC 262/1.  I had a little itch in my brain that elephants wearing bells were some how familiar to me when I included the coin below in my previous post.
ETRURIA. Val di Chiana. Ca. 208–207 BC. SNG ANS 36. SNG Morcom 44. HN Italy 69.
I realize it must have been because of the bell on the elephant head on RRC 262/1.  The bell must have been a prominent feature on war elephants to make it onto the coin iconography…
addendum.  HN Italy 2666 is an AE coin of ~18mm diameter with a bust of Nike on the obverse and an elephant with a bell on the reverse.  Trunk curves outwards, not inward.  The mint and date is unknown.  Two more specimens are in Copenhagen.
Update 6/6/2014:  Elephants with Bells also seems to be a Bacrian motif:
8/22/16:  and Indo-Greek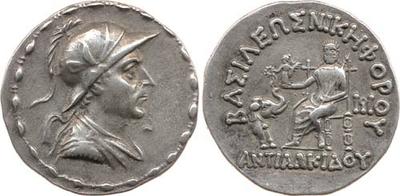 Update 4/11/18: So funny to learn while I was observing all this some one else what writing an article on it!
Sylvain Perrot. "Elephants and Bells in the Greco-Roman World: A Link between the West and the East?" Music in Art 38, no. 1-2 (2013): 27-35. http://www.jstor.org/stable/musicinart.38.1-2.27.